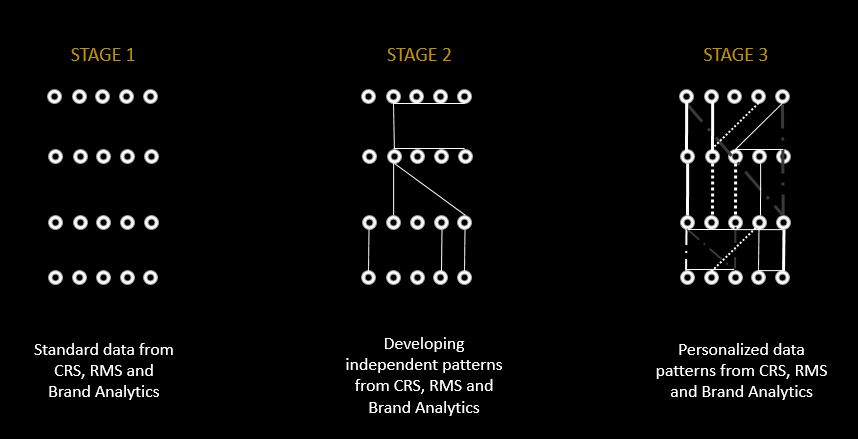 6 Minute Read
Is your Digital Campaign Personalized, Predictive and Precise?
The 3 stages of data collection and strategy implementation. Successful implementation for 18+ months should drive an ROAS of 1:15 at least. Figure out which stage is your hotel at present?
Personalization in digital marketing is essentially understanding the uniqueness of each customer and tailoring the business preposition accordingly. It is the single most critical factor in improving engagement and strong brand connect. Digital marketing can be aligned to deliver personalized, predictive and precisely focused experiences based on a consumer trend of buying behavior, search pattern and history, demographics, and browsing inclinations.
"Numerous points in the consumer journey can be personalized. You can personalize ad content, landing pages, emails, discount offers, sale alerts, product or service recommendations, and much more. How do brands stand out of the crowd when it comes to personalization? Personalizing your marketing from the very first touchpoint. And making sure you personalize based on meaningful data." This process of personalizing with clear set of objectives is detailed in the blog post of "How Personalization in Digital Marketing Improves Conversion Rates & Increases ROI" on Spectrm.io . It is very much relevant to the hospitality industry in a highly competitive digital space with traditionally lower ROI up until now.
- Present Scenario in the industry:
Hotels are successfully developing strong data points with a number of internal MIS tools. Accordingly, hotels are using the data from the Brand website analytics and developing the digital marketing strategies. Although it is a significant data point, but it leaves out a vast pool of personalization and strategic opportunities.
So where is your hotel presently?
Stage 1: You try and collect maximum data which can assist to drive direct bookings, but are unable to reflect it clearly in your marketing plans.
Stage 2: You are consistently collecting the data such as traffic, CTA, CTR, bounce rate, segmentation mix, lead times, etc. and applying it in generic marketing campaigns.
Stage 3: You are collecting data each and every guest (perspective guest) touch point and converting it to actionable customized marketing communication to achieve your digital marketing objectives consistently. As a result, you have a consistent ROAS of 1:15 each quarter.
If you are not at stage 3, then we can start moving in that direction with the following actions and observations.
- Deep dive into key data points:
A 360 approach of developing robust data points from revenue management systems and CRM tools and then applying another filter of brand / OTA traffic & conversion funnel can give a detailed insight into your customer profiling.
Google analytics and Omniture from Adobe are one of the best data compiling and MIS dashboards to see the trend and performance from your website. This merging of data can create magical penetration and recall value. To know more on the measurement of brand recall metrics review this blog from Voices.com.
- Personalization of communication:
The hotels have an opportunity to personalize more than 200% in comparison to the e-commerce giants such as Amazon, Netflix or even Booking.com (provided the AI adaptation is optimized across the hospitality industry). The key differentiation for hotels is that they have the actual response of each guest that are experiencing the product repeatedly. A guests' details do not have to be based on predictive analysis solely, it can be precise i.e. Thai food preference, hard pillows, extra shot of espresso, etc. collected not via predictive algorithm but in person during his stay.
- Integrating 3 Powerful tools:
Guest Experience Tools / CRM tools: Create a structure for collecting data points of each guest interaction. Collate straight forward data pattern of guest preferences by season / geography / age etc. This can be then funneled down for essential touch points i.e. late check outs, Italian cuisine, extra-bed for kids, weekend family stays, etc. by tracking the guest journey throughout the booking journey and during his stay.
RMS: Create a high level framework of business needs from a yielding perspective i.e. Length of stay 4 nights, shorter lead time in summer, higher traffic from German tour operators, banquet spaces with breakout meeting rooms, etc. Such information collated at the hotel level is absolutely vital as it gives an overall perspective of all channels, segments and sources of bookings. This is the 'X Factor' of outperforming hotels in a competitive environment.
Brand, Meta and OTA data points: Critical behavioral patterns such as low bounce rate from an offer page, higher click through rate (CTR) from 2 PM to 5 PM, room types with higher conversions, etc. are to be traced from all the digital platforms where the hotel is visible. The in depth analysis of these touch points guides the digital campaign deployment and is helpful for creating campaign objectives.
When all three systems work cohesively, they have the capabilities of exploding the ROAS (return on AdSpends). A clear, decisive and strategic marketing brief with pre-defined objectives will emerge.
The below instances were actually executed at one of our properties:
1. Objective: Improve conversion
Analytical outlook from the 3 aforementioned Systems: 5th May to 25th July has a shorter lead time of 3-4 days prior to arrival and our resort is dominated by families traveling from U.K. for weekend stays.
Marketing Brief: Increase the conversion rate by focusing on family rooms / suits and activities within the resort. Start the campaign for inclusive packages and increase the paid campaign spends from Tuesday evening to Thursday evening to capture the lead time. Share the traffic, CTA and conversion dashboard daily for adjusting the ad copies.
2. Objective: Improve traffic
Analytical outlook from the RM Systems: City has increased flight frequency from Germany by 20% for November and December. Average age of the travelers from this market traditionally is 30-45 years and are traveling for business purpose.
Marketing Brief: Increase the awareness of our hotel in Germany tier 1 cities, focus the messaging towards location near the airport, transport to business district and happy hours at the roof top bar. Ensure higher share of voice on the brand keywords from Germany and develop A/B testing framework for higher CTR of generic keywords. Share the ad copy performance twice a week for adjusting the campaign communication.
Strategy Cues proficiency: Strategy Cues has a successful track record of spotting the analytical trends and developing the digital marketing campaigns. In our previous avatar, we have developed awareness campaigns for pre-opening hotels, turnaround properties as well as for market share dominance of our hotels and service apartments. We have a unique ability to understand RMS tools, CRM data points as well as Digital Marketing framework for optimal returns on the strategies applied.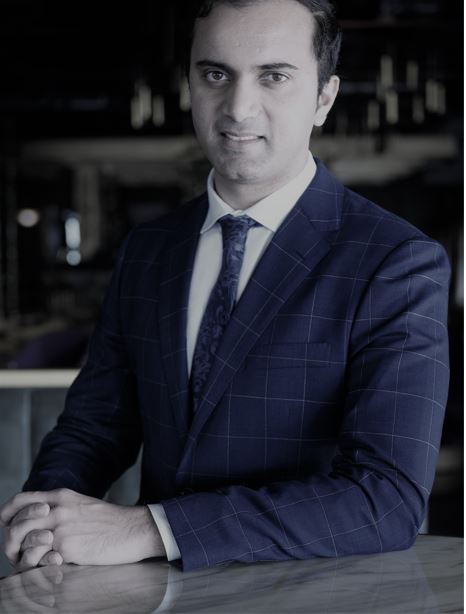 Ishan Gangakhedkar
Founder, Strategy Cues
Published On
May 16, 2022
6 Minute Read
Three focus areas of every consistent and successful hospitality product.